TEXAS BLUES GUITAR SUMMIT (USA)
ANSON FUNDERBURGH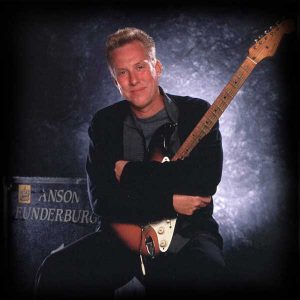 Anson Funderburgh has been an unstoppable force on the national blues circuit since his debut album with his Rockets, Talk To You By Hand, launched the New Orleans-based Black Top label in 1981.
Born in Plano, Texas, Anson grew up in a music-friendly environment; Dallas, with all its bedrock blues and country roots sits 20 miles south.  "I've always loved music," he says.  "Nobody really played an instrument in my family, but they loved to listen to music."  On Saturdays, the popular country music programs of the day started in the early evening – Panther Hall, The Wilburn Brothers Show, The Buck Owens Ranch, The Porter Wagoner Show, The Grand Old Opry.  "I loved to watch all those things," says Anson.  "My dad did too."
When he was eight or nine years old, Funderburgh received his first guitar as well as an unexpected bonus gift that proved to be highly influential.  His mother worked at a local school and she bought it from a lady that she worked with.  "I can't remember how much she paid for it," recalls Anson.  "I still have the guitar."
A box of 45s accompanied the guitar – Jimmy Reed singles, Albert Collins' Sno Cone (Parts I and II,) Freddie King's Hideaway, Wilbert Harrison's Kansas City and Linda Lu by Ray Sharpe.  That precious stack of hard-driving platters pointed Funderburgh in a stylistic direction that proved irresistible.  Another important in-the-flesh influence included the Nightcaps, a Dallas-based band whose rollicking Wine, Wine, Wine was a regional sensation during the early '60s.  "I think they probably inspired all the guitar players in my area," says Anson.
Then there was his in-person brush with B.B. King, which left an indelible impression.  It was 1969 at the Loser's Club off Mockingbird Lane in Dallas.  "It was a small club and he had the entire band, horns and all.  It was amazing.  It just blew me away."
Anson became a professional musician at age 15, playing in a variety of local bands including Sound Cloud Reunion and the Bee's Knees.  "Because of a dance that was popular called the Texas Push, we always played shuffles," notes Anson.  "You had to do a bit of different styles of music for different things.  Honestly, it was mostly blues.  That's the truth."
Along the way, he listened to the greats of the genre, absorbing all he could.  His biggest influences stylistically were Freddie King and B.B. King but Funderburgh also embraced the West Side sounds of Buddy Guy, Otis Rush and Magic Sam.  "I like all the guys that played behind the harmonicas, too – Luther Tucker and Robert Jr. Lockwood, Louis and David Meyers.  I love all those old Jimmy Reed things with Eddie Taylor.  There's just so many."  Jazz greats Kenny Burrell and Barney Kessel also had an impact.
Anson's first big break came in 1978 when he teamed up with harmonica player and vocalist Darrell Nulisch to form the initial incarnation of The Rockets.  Introduced through a mutual friend, they started gigging every Monday night together in October of that year and by January of 1979 they were making music together full-time at Poor David's Pub in Dallas.  "It was such a fun thing, and we enjoyed the same kind of music, so it just kind of stuck."
Anson Funderburgh & The Rockets were the inaugural artists on Hammond and Nauman Scott's New Orleans-based Black Top Records, one of the leading contemporary blues labels throughout the 1980s and '90s.  Kicking off the label in 1981 with their acclaimed debut release, Talk To You By Hand, the band encored in 1983 with She Knocks Me Out!.  "Those records with Darrell, I think those were good records," says Anson.  "We did a lot of covers at that particular point."
Funderburgh found Nulisch's successor by pure happenstance while the Rockets were out on tour and playing in Jackson, Mississippi.  Sam Myers already boasted quite a resume, having cut classic singles for the Ace and Fury labels more than two decades prior.  While playing at a club called George Street Grocery in '81 or '82, Myers came and sat in with the band.  "Every time we played Jackson, we'd go see Sam……we just became real good friends," recalls Anson.
In 1984, Sam and Anson recorded My Love Is Here To Stay for Black Top.  "I just had an idea of putting together a record, a little side project I could do, and still do The Rockets.  And it would be a way to help Sam…….it sounded so good to me, that record is a great record."
Nulisch stepped away from the music business and exited The Rockets in 1986.  "When Darrell decided to leave the band, I called up Sam and asked him if he wanted to move to Dallas.  He said, 'Sure.'  I went and picked him up in Jackson and moved him to Dallas," recalls Anson.
With Myers as The Rockets dynamic front man – his booming pipes were perfectly complemented by his muscular harp work – Anson embarked on his most bountiful period on wax, issuing one spectacular album after another on the Black Top imprint:  Sins (1987), Rack 'Em Up (1990), Tell Me What I Want To Hear(1991), Live At The Grand Emporium (1995) and That's What They Want (1997).  And you can throw in the '91 overview Thru The Years: A Retrospective for good measure.  Anson also guested on Black Top recordings by Snooks Eaglin, Nappy Brown, Joe Hughes, Grady Gaines and James "Thunderbird" Davis.  The band moved to Bullseye Blues in 1999 for Change In My Pocket and Which Way is Texas? in 2003.  The Rockets even achieved cinematic immorality by appearing in the nourish 1994 feature China Moon, starring Ed Harris.  The film's soundtrack also featured several of the band's songs.
The longstanding musical partnership between Anson and Sam brought both international acclaim.  For 20 years The Rockets, along with Myers, toured continuously all over the world and went on to win ten Blues Music Awards from the Blues Foundation in Memphis, Tennessee.
Myers succumbed to cancer in 2006 and his death came as a crushing blow to Anson.  "I don't even know how to explain it, really," he says.  It just seemed like it was kind of time to rest for a minute."  He took a break from non-stop touring but continued to perform periodically as The Rockets with featured guest singers and harmonica players including James Harman, John Nemeth and the late Lee McBee.  Washington, DC-based Big Joe Maher also shows up as a special guest, taking over drummer and lead vocalist duties.
Over the years, Anson has caught the attention of some of the most influential musicians in the business.  He played on Delbert McClinton's first Curb Records release I'm With You in 1990 and is a recurring guest on McClinton's renowned Sandy Beaches cruises.  Anson also performed alongside fellow Plano native Boz Scaggs on an episode of David Sanborn's innovative television series Night Music.
You are just as likely to find Anson behind the board as you will on any festival stage.  In addition to producing his own albums, he is the man behind John Nemeth's release Magic Touch.  He has produced all four of Nashville-based guitarist Andy T's albums (whom he also toured with as special guest) and provided the same service in 2011 for the Ruff Kutt Blues Band's Milk Block Blues.  Funderburgh helmed Jonn Del Toro Richardson's disc Tengo Blues which garnered the 2017 Blues Music Award for Best New Artist Debut.  Most recently, he produced the critically acclaimed Problem Child for Italian blues guitarist Dany Franchi.
Funderburgh undeniably remains best known in the blues field for his extraordinarily concise lead guitar attack.  In addition to anchoring his latest iteration of The Rockets, he's been touring since 2010 with Bay Area-based harmonica player Mark Hummel as a prime factor in the Golden State-Lone Star Revue.  Another frequent musical cohort is New Orleans multi-instrumentalist Eric Lindell; they've recorded and toured together on a regular basis, including six appearances at the annual New Orleans Jazz & Heritage Festival.
Funderburgh's unmistakable style, tone and sensibility has made him one of contemporary blues music's most important guitar players.  Once a clean-cut up-and-comer on the national blues scene who's crisp, biting guitar licks belied his soft-spoken manner, Anson has developed into a legacy artist and his influence on countless guitarists is immeasurable.
MIKE MORGAN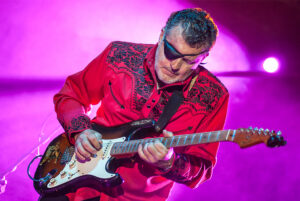 Mike Morgan was born in Dallas on November 30, 1959, and grew up in nearby Hillsboro, Texas. Morgan displayed an avid interest  sounds of Otis Redding and Wilson Pickett on local radio stations.
He received his first guitar while in the third grade, but didn't begin to take playing seriously until he discovered Stevie Ray Vaughan's album, Texas Flood, in 1985.
"When I heard Stevie's first album, that was it," Morgan recalls. "I already knew how to play the guitar, but Stevie showed me a lot of things I didn't know. After that, I dove headlong into playing the blues."
As his prowess on the guitar developed, it became clear that he was not merely a Stevie knock-off, but rather an original player with a sound and style all his own. Mike moved to Dallas in 1986 and soon hooked up with experienced vocalist Darrell Nulisch (formerly with Anson Funderburgh and the Rockets) to form a new version of The Crawl (named after an old jukebox hit by guitar great, Lonnie Brooks. Darrell had a tremendous knowledge of blues and a deep collection of blues records, and he exposed Morgan to the music of the Chicago blues scene and many of its key players.
Mike Morgan and The Crawl quickly made a name for themselves as one of the best contemporary blues bands in Texas, writing original songs that were on a par with the classics they chose to cover. After Nulisch left the band in 1989, Morgan set out to find a vocalist who would fit his desire for a broader-based R&B sound.
He found the perfect match in Kansas City native and blues veteran Lee McBee, whose smoky, seasoned vocals were reminiscent of the legendary 1960s soul singers Morgan listened to while growing up. The fact that McBee was also an accomplished and revered harmonica player added more fuel to The Crawl's fire.
As Mike and Lee's collaboration proved popular with blues aficionados, appearances at the Benson & Hedges Blues Festival, the Dallas Blues Festival, the Atlantic City Blues Festival and the Mississippi Valley Blues Festival soon followed. Shortly before a performance at the New Orleans Jazz & Heritage Festival,
Morgan's old pal Anson Funderburgh took Black Top owner Hammond Scott to a gig. Scott was so stunned by the band's talent and originality that he signed them to the label immediately following the Jazz Fest appearance.
Mike Morgan and The Crawl found a national audience with the release of their debut recording, Raw & Ready, in 1990. Backed up by extensive national and international touring, Mike Morgan and The Crawl continued to amaze their fans throughout the 1990s by releasing five highly regarded albums, Mighty Fine Dancin, Full Moon Over Dallas, Ain't Worried No More, Looky Here!, The Road and I Like The Way You Work It. Morgan even kept a high profile during some down time away from the band in 1994 by recording Let The Dogs Run, a highly acclaimed record that paired him with fellow Dallas guitarist Jim Suhler.
Meanwhile praise for Morgan and the band came flooding in. Guitar World Magazine called Morgan "a genuine blues guitar hero!!"
Blues Access Magazine raved, "Mike Morgan and the Crawl crank up an irrepressible of fresh gritty blues and romping Stax/ Volt-era soul."
New Years Eve 1999 saw an end to the Morgan /McBee era of Mike Morgan and the Crawl. As Lee ventured out to do his own band back in his home state of Kansas, Morgan decided it was high time he took over as front man. After years of great vocalists / front men such as Lee McBee, Darrell Nulisch, Chris Whynaught and Keith Dunn, Mike was ready to take on the new challenge.
In 2000 Texas Man, Mike's first vocal outing was released on Severn Records. Texas Man met rave reviews and was followed up in 2004 by " Live in Dallas."
2007 saw the release of the most current CD, Stronger Every Day. Stronger Every Day was released by Seven Records and has guest appearances by Lee McBee and Randy McAllister.
Mike has not been touring much since 2006. He was still playing mostly local gigs and a few scattered touring appearances. In 2007, Mike accepted an offer to manage a Kawasaki/ Suzuki motorcycle dealership. In May 2018, the owner retired and Mike decided to go back to playing full time. 2018 and 2019 have been busy with Mike doing Mike Morgan and the Crawl shows as well as being asked to do hired gun guitar gigs with the likes of Shawn Pittman, Dustin Arbuckle, Randy McAllister, Johnny Sansone, Robin Banks and The Tejas Brothers. Mike has been writing new material as of November 2019 he is very close to getting back in the Studio for the first time since 2006.
Texas blue guitar slinger, Mike Morgan is back and electrifying
audiences with the rhythm support of Kevin Schermerhorn on
drums and Drew Allain on bass.
SHAWN PITTMAN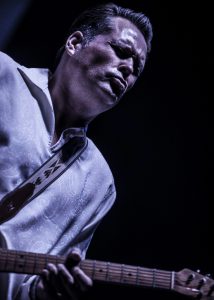 Shawn Pittman grew up with music all around him.  His grandmother loved to play the boogie-woogie piano at family gatherings.  Shawn's mother must have seen something in him before he discovered what would be his life's passion, his mother signed him up to take piano lessons at a young age. It wasn't long until young Shawn was sneaking into his older brother's room to play on his drum kit.  By age fourteen, Shawn had a guitar in his hands.  His discovery of Lightin Hopkins and Muddy Waters set the stage for Shawn's musical journey.
He was born into his native roots of the Choctaw nation in Talihina, Oklahoma.  Pittman later found his musical roots in Texas Blues when he moved to the state at the age of seventeen to attend the Booker T. Washington High School of the Performing Arts in Dallas. He expanded his music education courtesy of his uncle who would take him to local jams around town.  This is how Shawn first met and learned from musicians like Hashbrown, Sam Myers, Mike Morgan, Jim Suhler, Tutu Jones, and many others.
Pittman recorded his first album in 1996. That album, Burnin' Up, was released on Cannonball Records the following year.  Throughout his career, Shawn has released 15 albums of original songs and a few covers featuring some of his favorite influences.  As a songwriter and performer, Shawn is constantly composing and releasing new material.
Shawn begin his musical journey sharing the stage with local musicians in Dallas nightclubs and graduating to touring in the U.S and Europe. He has shared the stage with people such as Sugar Ray Rayford, Shamekia Copeland, Susan Tedeschi, Hubert Sumlin, Joe Louis Walker, Kim Wilson, James Cotton, Pine Top Perkins, Matt "Guitar" Murphy, Kidd Ramos, Kirk Fletcher, Lou Ann Barton, Tab Benoit, Willie "Big Eyes" Smith and many others.
When asked who his favorite person to open for, Pittman replied, "It was awesome opening for B.B. King, it was a dream come true".  Shawn went on to share, "The weeks before opening for B.B. I thought about what question I would ask him, if I got the chance. Well I did get that change, so I asked him his secret for longevity."  B.B. King answered Shawn by saying, "Treat people how you want to be treated, and remember everybody has a boss."
In Spring 2022, Pittman toured Europe with Anson Funderburgh and Mike Morgan as part of the Texas Blues Guitar Summit. The power group continues to perform shows in the U.S. and abroad.
Shawn's latest album "Hard Road," was released in Fall of 2022. It was recorded as a live in-studio album in Austin, Texas with his current touring trio. The album and live show present a unique sound of a traditional trio mingled with the unexpected two guitar and drums presentation on selected tracks.  Don't worry this isn't a three-piece band asking for more depth; this is a trio demanding a double take.  Shawn's fiery guitar solos and soulful vocals are backed by the intense groove of vintage bass and drums.  This house-rockin' trio leaves audiences mesmerized and wanting more.
RECORDING HISTORY:
Shawn's first album, Blues From Dallas, was recorded in 1996 and later picked up and retooled for his national debut in 1997 as Burnin' Up on the Cannonball Records label. In 1998 the second album on Cannonball Records, Something's Gotta Give was produced by Jim Gaines,
Pittman toured as rhythm guitarist for Susan Tedeschi in 1999, and made a television appearance with her on the Conan O'Brian Show. The following year he relocated to Austin Texas and recorded his third album, Full Circle backed by the famous rhythm section, Double Trouble.
Shawn begin touring Europe in 2001 and maintained a consistent European touring schedule for the next several years as his fan base grew.
In 2004, an experimental album titled Stay was released.  This album featured more rock sounds than previously showcased.
Shawn released several albums between 2008 and 2012. Titles released in the United States included: Meridian, Undeniable, and Edge of The World (on Delta Groove label).  Albums released in Italy in, on Feeling Good Records, during this time frame included: Too Hot, Movin' and Grovin', Shawn Pittman with The Moeller Brothers.
The 2012 Edge Of The World marked Shawn Pittman's tenth release.  He played every instrument, with the expectation of saxophone.  Performing and playing everything from vocals and guitar, to bass, drums, and piano, on top of doubling as the album's producer and engineer, Pittman served up all his musical talent in a multi-track, one-man (almost) album.  When asked to comment about the inspiration behind his latest and most ambitious project, Pittman stated, "I'm just playing the music I want to hear!"
In 201, Pittman recorded his 12th album, Everybody Wants to Know with longtime friend and drummer Jay Moeller.
In the Spring of 2020, Shawn recorded Make It Right in partnership with Netherlands-based Continental Record Services. In  2021 and in adaptation to the pandemic, he expanded his repertoire to include solo acoustic music and released Stompin Solo his first all-acoustic album.  This album was also released and distributed by Continental Records in the Netherlands.
Shawn's latest album "Hard Road," was released in Fall of 2022. It was recorded as a live in-studio album in Austin, Texas with his current touring trio. The album and live show present a unique sound of a traditional trio mingled with the unexpected two guitar and drums presentation on selected tracks.  Don't worry this isn't a three-piece band asking for more depth; this is a trio demanding a double take.